PRODUCT INFORMATION
[Skin Type]
Highly recommended for you if:
- you want to gently remove makeup and impurities with all-in-one cleansing tissue
- you want to effectively clean off skin with a cleansing tissue infused with cleansing lotion

[Ingredients]
- Contain Point's high-quality cleansing lotion 
- Contains Nelumbium Speciosum Flower Extract effective in soothing a sensitive skin
- Free from harmful skincare ingredients such as alcohol, benzophenone, steroid, talc, and animal-derivatives

[Feature]
- An one-step cleansing tissue that can effectively remove makeup from your face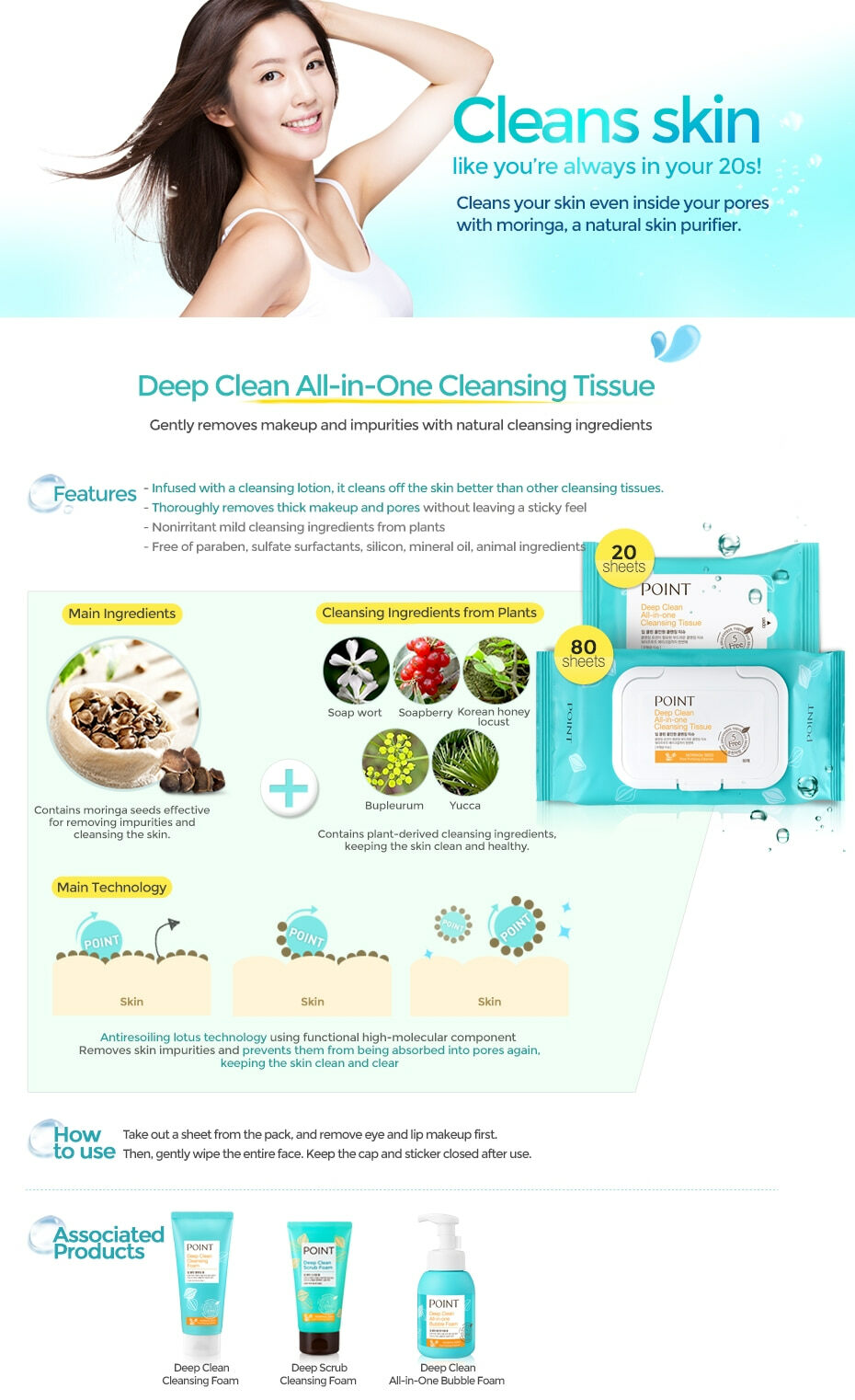 Volume / Weight
80 sheets
Ideal for
Cleansing Wipes
Expiration Date
12 months after opening
How to Use
Pull out a cleansing wipe, and cleanse around your eyes and mouth first. Then, gently swipe it across your skin toward the outer edges of your face. Prevent the cleansing wipes from getting dry by closing the lid back after use.
Ingredients
Purified Water, Propylene Glycol, Cetearyl Isononanoate, Ceteareth--20, Cetearyl Alcohol, Acorus Calamus Root Extract, Nelumbium Speciosum Flower Extract, Bupleurum Chinensis Root Extract, Allantoin, Glycerin, Butylene Glycol, PEG-40 Hydrogenated Castor Oil, Glyceryl Stearate, Cetyl Palmitate, Ceteareth-12 Sodium Benzoate, Citric Acid, Fragrances, Chlorphenesin, Dipropylene Glycol, Yucca Schidigera Leaf/Root/Stem Extract, Bupleurum Falcatum Root Extract, Acorus Calamus Root Extract, Sansevieria Trifasciata Leaf Extract
MFDS Evaluation of Functional Cosmetics
N
Cautions for Use
1. Stop using the product immediately, and consult a dermatologist if you have skin reactions including redness, swelling, itching, and irritation.
2. Do not use the product on sensitive or problem areas of your skin such as open wounds and dermatitis.
3. Avoid storing your product within the reach of infants or children and in the direct sunlight.
Quality Assurance Standard
If you purchase a defective product, you may be entitled to compensation in compliance with the Korea Fair Trade Commission's Regulations on Consumer Dispute Resolution.