PRODUCT INFORMATION
CUSTOMER REVIEWS
PRODUCT INFORMATION

[IDEAL FOR]
Those with chapped lips.
Those who want to nourish lips.


[INGREDIENTS/MATERIAL]
Shea Butter: moisturizes lips.
Peppermint Essential Oil: gives a fresh feeling.


[FEATURES]
This product does not give a glossy texture.
This product is genderless.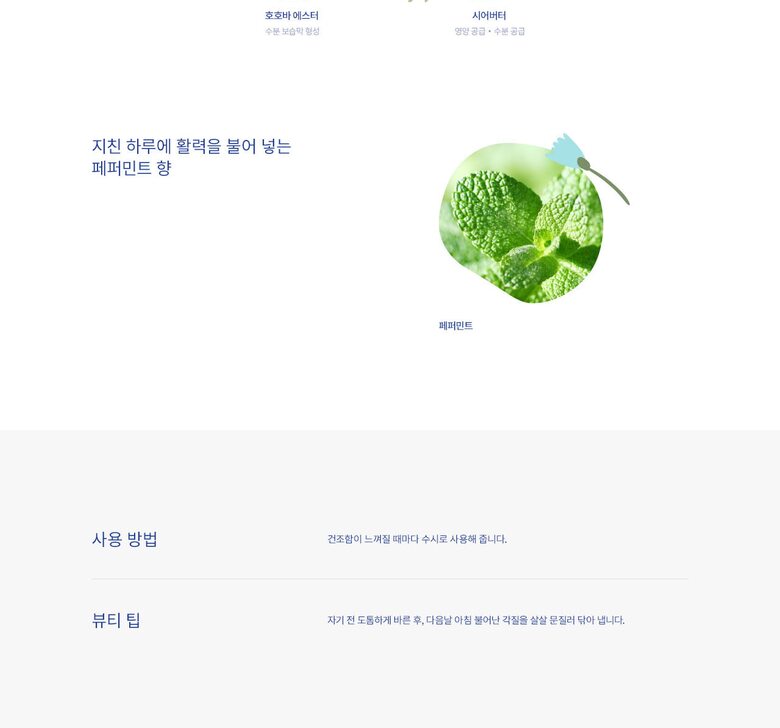 Volume / Weight
3.6g
Ideal for
For all skin types
Expiration Date
6 months after manufacturing date
How to Use
Use as frequently as needed to relieve dryness.

Ingredients
Citric Acid,Resveratrol,Linalool,Limonene

MFDS Evaluation of Functional Cosmetics
N
Cautions for Use
1. Consult a specialist if you have abnormal symptoms or side effects such as a skin rash, swelling, or itchiness during use or from exposure to direct sunlight after use.

2. Do not use on wounds or other affected areas.

3. Storage and handling instructions

a) Keep out of reach of children.

b) Keep away from direct sunlight.


Quality Assurance Standard
In case of defect, this product is subject to exchange and necessary services in accordance with the Consumer Dispute Settlement Standards announced by the Fair Trade Commission.